How to make streams work for iPad and iPhone??
Now you can enjoy flash player on iPad or iPhone that can run flash videos and flash games on iOS. We listed a couple of awesome flash player browsers for iPad / iPhone to enrich your browsing experience. These iOS browsers bring you the ability to view flash content and eliminates the requirement of dedicated apps for flash player. Most of them supporting flash videos and flash games for iPad, iPhone, iPod.
You do not want to install any third party flash player or no need to download Adobe flash player application to support flash player for iPad or iPhone. Most of them gives you both free and paid versions and that enables you to test those browsers before you pay for it.
If you are looking for a flash player browser for android, please here is for the Best Browsers Support Flash Player for Android.
Puffin Web Browser
Puffin Web Browser is fast web browser supporting flash player on iPad and iPhone. With the help of cloud servers, Puffin Web Browser brings the desktop web browsing experience to tablets and smartphones.
It renders the full versions of web pages quickly and reliably and also supports Flash with excellent performance on iPads and iPhones.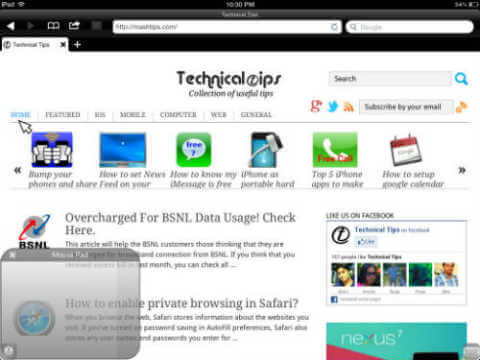 Puffin Free does not support Flash. HTML5 videos and games will be fully supported in Puffin Web Browser. Puffin browser also featured with Optional Mouse and Keyboard, Webpage Bookmark, Search suggest, Popup blocker and Top sites. It is worth for its feature rich design and integrates with flash player on iPad and iPhone versions. Puffin browser available with Free and Paid version.
Photon Flash Player
Photon Browser is a powerful new browser with Flash capability designed to enhance your browsing experience on the iPad. Photon browser is a powerful and versatile Safari alternative that excels in its Flash support. You can view flash contents on iPad by pressing Lightning Bolt Button. Photon browser enables you set bandwidth 3 or 5 for sharper resolution, 6 for higher frame rates and 1 if you have a slower network or device. Photon Browser allows you to play Flash games such as free Facebook games, use Flash apps, listen to music streamed via Flash player and watch Flash video.
This browser supports Flash websites that would otherwise not display on the iPad and get latest Adobe Flash player support.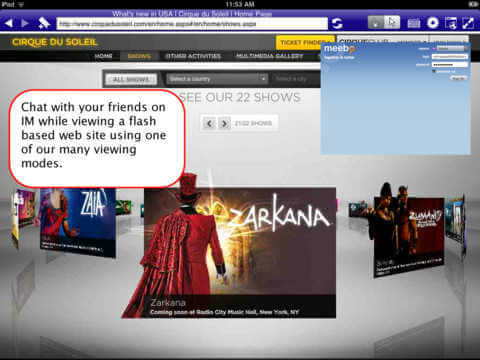 You have to click on the "Lightning Bolt" button to enter streaming mode to view Flash sites. Otherwise, you will see the standard Adobe message that Flash needs to be installed or upgraded as you are still in the native browser mode. Only by explicitly clicking on the "Lightning" button will you then be able to view Flash content. You can use the number settings under Settings->Bandwidth to adjust the bandwidth profile to deliver the best experience for Flash.
You may not be able to view some sites such as Hulu due to some sites blocking traffic from certain cluster of IP addresses. If you have a slow Internet connection such as over a slow 3G network, remote browsing feature may have slow performance. Flash mode works best over Wifi in a broadband network. The browser available with Free and Paid version.
iSwifter Games Browser
iSwifter Flash Browser unlocks your favorite Flash content on your iPad, letting you view videos, Flash websites, and best of all, interactive Flash applications such as Facebook Social Games, popular MMORPGs, and casual games.
iSwifter Flash Browser empowers you to instantly play your favorite social, casual & MMO games; watch your favorite shows, music videos, movies and to use all Flash applications on your iPad.
Note: iSwifter currently requires a Wi-Fi connection.
iSwifter Flash Browser is available free for the first 7 days for you to evaluate. If you like the experience, you can upgrade to the paid version of the app using an in-app purchase to get unlimited access and enhanced performance levels.
Skyfire Web Browser
Skyfire allows you to watch Flash videos that otherwise don't work on iPad. You can enjoy videos from sites across the web that have not been optimized for iPad such as live streaming video like breaking news, sports, concerts & more.
Using Skyfire, you can access your Facebook and Twitter feed and share directly with friends from an iPad browser.
Skyfire DOES NOT support Flash Websites, Apps or Games. Skyfire is focused on video only at this time.